Non for Profit – A NetSuite Solution
AVT Solution Advantage
Non for Profit – A NetSuite Solution
Not for Profit (NFP) organisations, be they looking after local issues or contributing to global movements, face a myriad of issues from the political, logistic, fundraising to compliance and the administrative.
The key challenges that they face are:
Attracting Funds:

Only by showing results can an NFP be confident that they will be considered as worthy of grants and donations. Having the systems needed to provide up to date analysis of the programs and projects being undertaken alongside financial results that demonstrate integrity of purpose and dedication to the cause being promoted will go a long way in demonstrating this.

Governance:

Increasing oversight is required but there is less time to do it. NFP's are ruitinely scrutinised for the proportion that is spent on administration and do not have the luxury of substantial back office staff. Efficient systems are key to proving compliance without exhausting internal resources.

Future investment returns:

In a world where interest rates are extremely low, the management of funds received so that they can be optimised as revenue generating assets can only be done with systems in place that enable management of fundraising and the control the levels and timing of expenditure.
Netsuite for Non-For-Profit (NFP) is an out-of-the-box solution tailored to meet the specific financial management needs including:
Management of Fundraising campaigns:

Utilising NetSuite's CRM functionality.
Utilising NetSuite's Marketing and Sales Campaign functionality.
Utilising NetSuite's online donation functionality.

Funds Traceability:

Track source of all funds.
Link funds to specific programs or projects.
Grant (corporate, private, government) controls including date or type restrictions.

Spending ControlsAnalysis of expenditure by:

Grant.
Program.
Project.
Expenditure Type.

Program and Project Management:

Multi-layered programs with supporting projects.
Project Task management.
Time, Expense and Vendor billing accountability.

Reporting:

Role based Dashboards.
Management Reporting.

Fundraising Progress.
Grant Management.
Expenditure.

Financial Reporting:

Income and Expenditure.
Fund Management.
Combining the above with NetSuite's easy to implement and operate user environment, this will greatly assist in providing the NFP with the across-the-board tools needed to support their primary function.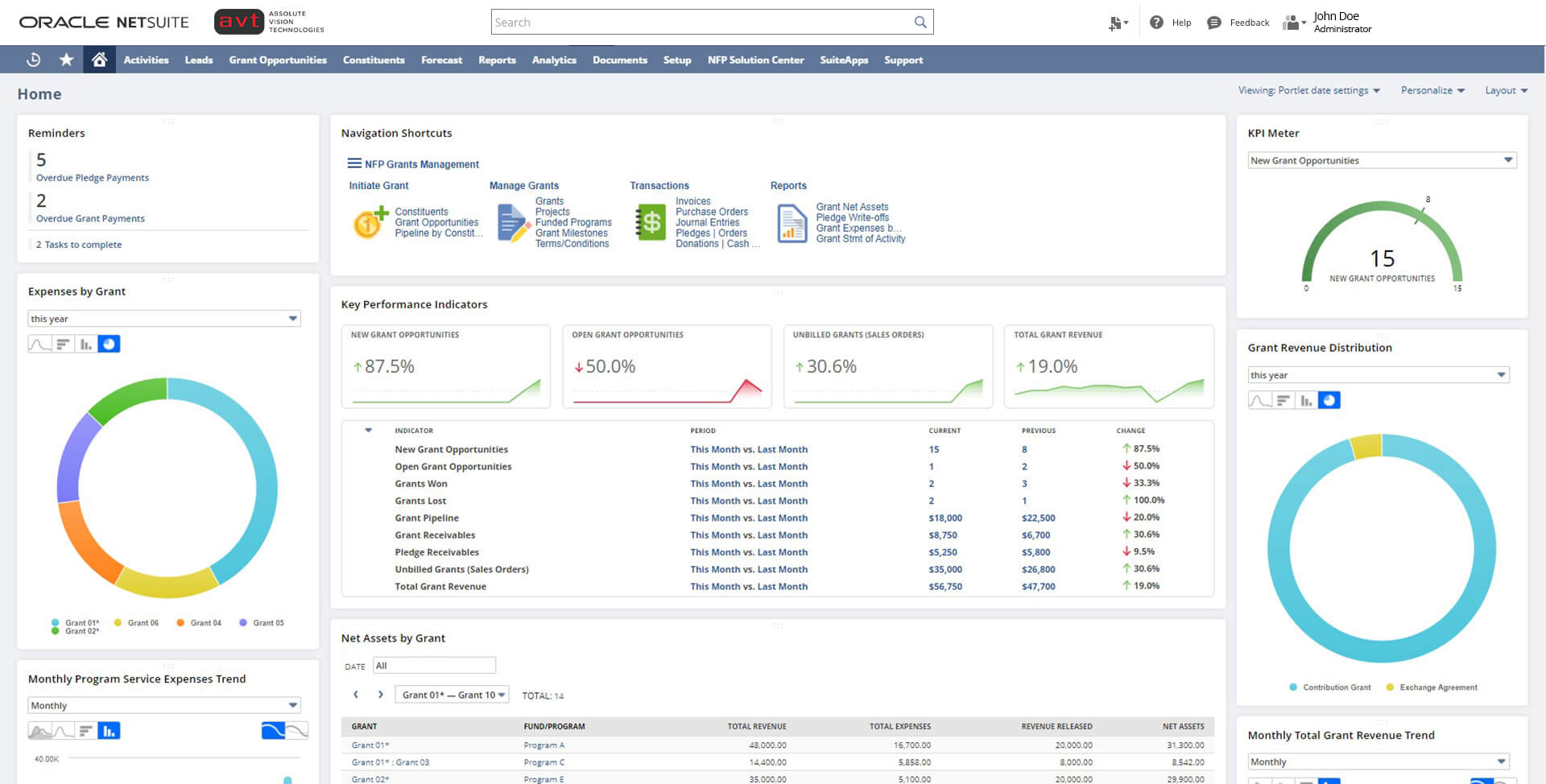 Let us take care of your ERP systems, so that you can better focus on your clients
AVT is a leading cloud ERP provider and Oracle NetSuite partner that operates across Australia, New Zealand, USA and Asia.
We have enabled transformational improvements to over 250 organisations, through the utilisation of ERPs. We are continually engaged in many business improvement projects, focused on distribution and manufacturing, and have well established software and service capabilities.
AVT are currently offering a 'bucket' of free consulting hours to a selected non-for-profits organisations to review your ERP systems or to assist you better utilise NetSuite to achieve greater social impact and provide our recommendations.
We are excited to utilise our knowledge and expertise to assist you with NetSuite support, training, SuiteApps implementation, analytics and reporting.
If you are interested in this limited offer, please call AVT on (02) 9262 9940 or email us at sales@abvt.com.au to book your place.
Explore NetSuite for Nonprofit Organisations