NetSuite for Nonprofit/Non for Profit Organisations
Scale and grow your Nonprofit Organisation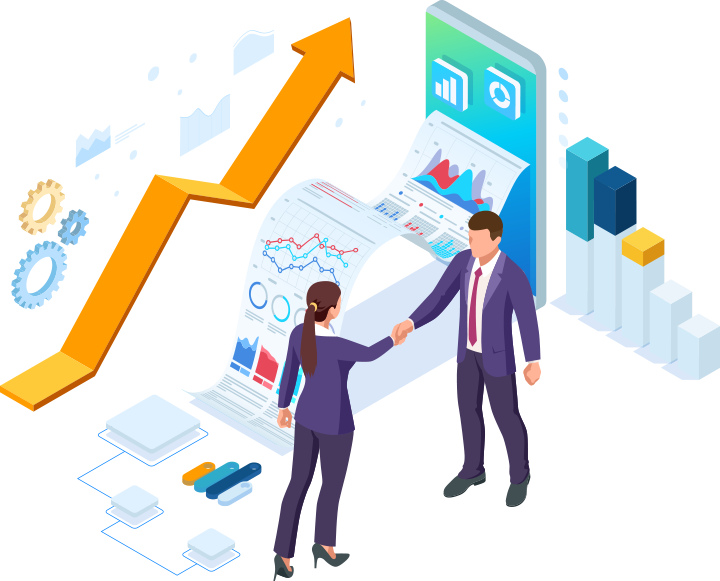 AVT Oracle NetSuite Solution Advantage
Transform Your Nonprofit Organization with Software Built for the Cloud
Build, run, and grow your Nonprofit business on NetSuite
Improve Productivity and Reduce Operational Cost with automations for Nonprofit/Non for Profit
Build, run, and grow your services or multi-channel organisation on the cloud
Organisations can create significant improvements with ERP deployment.
➤ Improve Customer Service
➤ Improve Profitability
➤ Real-Time Visibility
➤ Increase Billable Utilisation
➤ Improved Resource Scheduling
➤ Implement controls
➤ Improve Financial Reporting
➤ HR & Payroll
Whether your mission is helping the local community or providing international outreach to empower and educate for global causes, one thing is certain—nonprofit organizations face tremendous complexity and operational challenges. They often run a myriad of disparate applications and spreadsheets, and lack tools that are affordable, effective and purpose-built to meet their unique needs.

Ultimately, this doesn't just impair operational efficiency; it undermines the ability to make the social impact nonprofit organizations aspire to.
Nonprofit specific Leading Practices provide Executive Directors access to the Key Performance Indicators they need to manage their mission outcomes.
Complete Business Solutions
Features & Benefits
NetSuite's cloud finance and accounting solutions seamlessly couple core accounting functionality with real-time financial visibility and business insights to drive financial excellence.
NetSuite's billing management capabilities integrate your sales, finance and fulfillment teams—improving accuracy, eliminating billing errors, strengthening revenue recognition processes and driving fulfillment accuracy and efficiency.
NetSuite's revenue recognition management solution helps companies comply with accounting standards and report financial results in a timely manner.
Shorten cycle times, engage business users and enrich your planning process with an intuitive planning, budgeting and forecasting solution. From reporting and analytics, to insight and decision-making, gain a more complete picture of your business on-demand and in real-time.
NetSuite provides unprecedented "close to disclose" capabilities that accelerate close time, maximize transparency and ensure compliance. NetSuite Governance, Risk and Compliance (GRC) solution addresses the issues of corporate governance, enterprise risk management, and effective corporate compliance with technology and processes.
NetSuite has integrated Single Touch Payroll (STP) for Australia, New Zealand with Employee Leave Management and Payroll and Tax Reporting. NetSuite provide Payroll as a Service in the USA and other parts of the world, making paying employee easier than ever.
Netsuite CRM provides a 360-degree views of customers, Lead to Prospect Automations, Marketing Automation, Campaigns and Cases for after sales service and support. With Onlineforms leads can be captured and pushed in from various channels and roudted and assigned. Using Opportunity, Quotes, deals can be priced up accordingly and used for forecasting pipeline and quotas. Using forecasting tools, marketing automation and contact management, NetSuite CRM supports both b2b and b2c businesses with customisable Dashboard, Calendars and reporting and workflow automation provide an improved automated way of supporting customers and increasing sales efficiency.
Using AP automation it's easier to Pay suppliers locally and globally. Using Online forms and Approvals, new Suppliers can be registered and approved for payment. Purchase orders can be raised in an automated way and made accessible to Suppliers using an Online Portal. Good and Services can be received and matched against supplier invoices. Payments can be made using EFT and online Banking Integration and confirmation of remittance can be sent in with all messaging tracked in NetSuite.
NetSuite provides a full business solution for Nonprofit Companies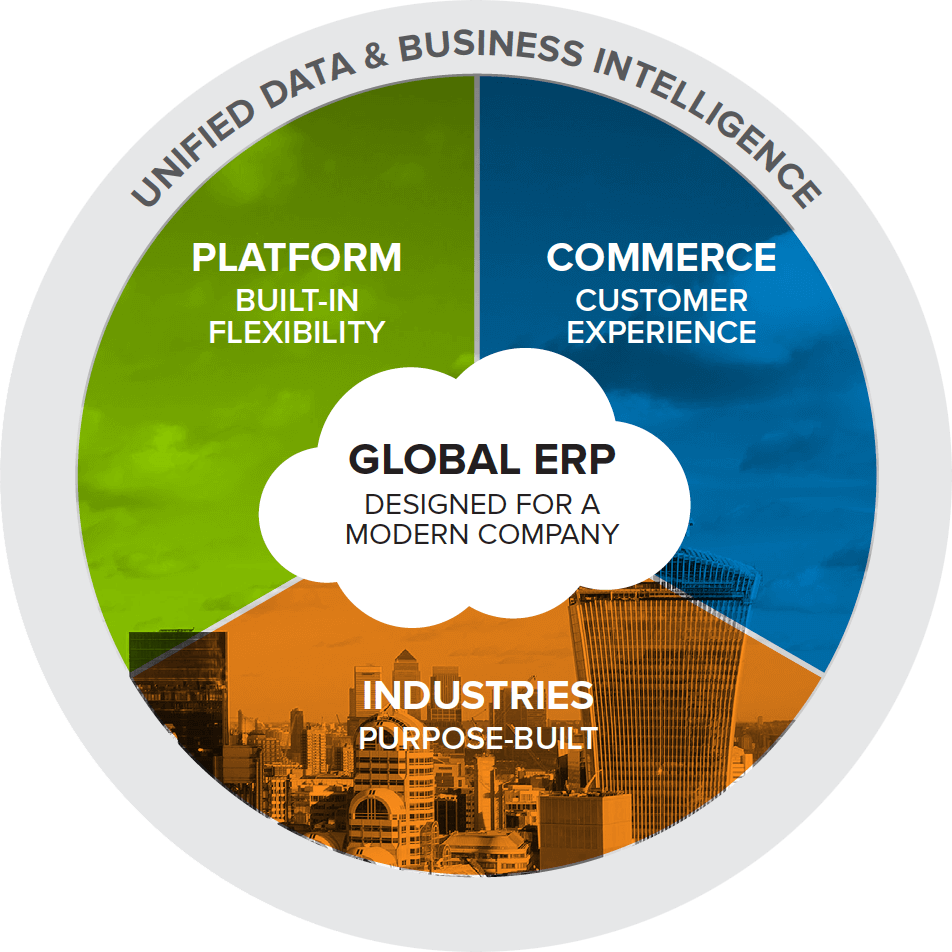 Evolve Your Nonprofit Organisation
With NetSuite's true-cloud application and AVT's expertise, you can run your entire services business from end-to-end as a fully integrated Planning, Financials, Servicing Management, Production Scheduling and CRM solution. Take advantage of having one system to manage projects and financials as well as enabling sales presence expansion through an integrated platform, anytime, anywhere.
The #1 Cloud Business Software
NetSuite Isn't Just for Startups
Nonprofit organisations of all sizes could profit from improved visibility and increased efficiency. NetSuite offers these benefits with its comprehensive, global financial and accounting core. As your business grows and evolves, scale your organization by eliminating costly and inefficient manual processes and disparate systems.

Startups, midsize, and enterprise Nonprofit providers all benefit from NetSuite's award-winning solutions. Today, over 24,000 companies trust NetSuite to provide the foundation to operate their business processes.

Dynamic and forward-looking, NetSuite provides real-time data insights to allow you to make important path adjustments & project changes for global expansion success.
A Pathway to Success
Leading Practices for Nonprofit/Non for Profit Companies
• Continuous Customer Lifecycle Engagement to ensure continuity from sales to services to support.

• Full visibility across the organisation to operate at the speed of modern business, drive results and scale.

• More than 3,000 hours worth of industry-leading best practices already built in to the system.

• Nearly two decades of expertise across thousands of software and high tech industry deployments to drive value on Day 1.

• 100+ pre-built reports and pre-configured roles with dashboards and business intelligence metrics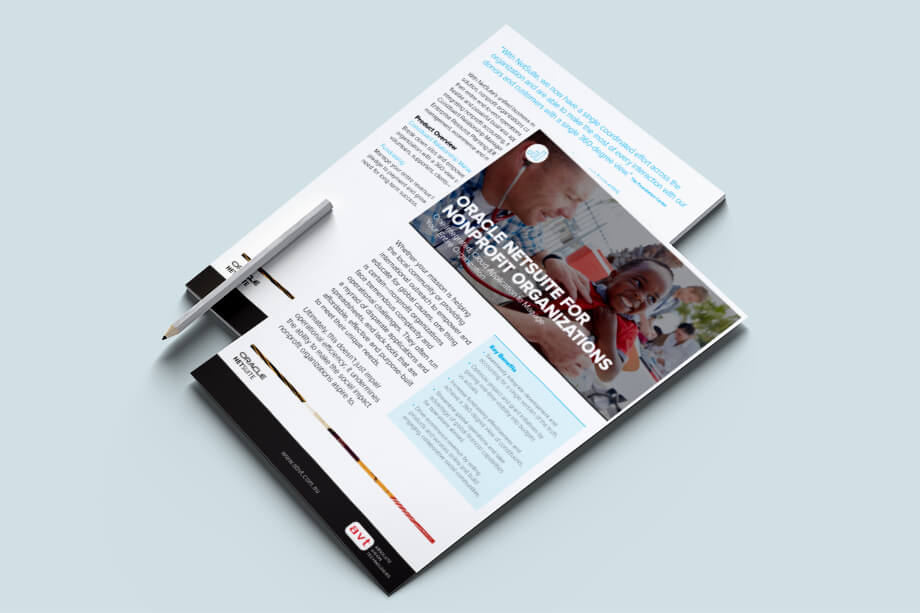 NetSuite Module Data Sheets
AVT Nonprofit Organisations Customers
ERP Case Studies
With over 15 years of experience and 1000+ business improvement projects, we are proud to have transformed the processes and systems of many businesses, both locally and globally.
Request Solution Demo
Fill the Form Below to Get Started on your Digital Transformation
Our Oracle NetSuite for Nonprofit Organisations Form will help you to price/budget your NetSuite ERP Software investment. Please note that the estimate is provided on best estimate basis and any discounts/offers are negotiated additionally. The estimates are indicative only and formal commercial estimate is issues once your account is verified and engagement established. AVT ERP Sales and Solutions representative will get in touch with you to confirm your details before any estimate is formally issued. Please make sure your email and phone numbers are correct so we can reach to verify your account. Any feedback or questions please don't hesitate to email us on sales@abvt.com.au