How to manage Promotions in NetSuite Using SuitePromotions?
What Promotion modules options are available in NetSuite?
SuitePromotions
Standard Promotions
Advance Promotions
What is SuitePromotions?
SuitePromotions is a free module in NetSuite. Once this is turned on, it allows users in the back office to manage promotions while entering Order in NetSuite. The following promotions are supported through SuitePromotions
Item Promotions
Order Promotions
Shipping Promotions
How can we use SuitePromotions in NetSuite?
Promotions can use the following parameters:
Effective and expiration dates
Specific locations, all locations or excluded locations
Specific customers, all customers, excluded customers, customer categories
Specific items, all items, excluded items or item classes
Type and amount of discount
Purchase conditions required to receive the discount
Repeatability options that let customers receive discounts multiple times or once per customer
First only promotions for new customers where they receive the discount one time on their first NSPOS purchase transaction.
The minimum amount spend to qualify for a discount
Stacking rules that group promotions to managing how they interact with other promotions
Each promotion is based on at least one of the following discount types:
Per cent Off – A basic discount, where you specify what per cent of the original price will be discounted.
Amount Off – A basic discount, where you specify how much the original price will be discounted.
New Price – A basic discount based on repricing, where you specify a temporarily reduced item price.
Transaction Discount – A discount that takes an amount or per cent off the transaction total, before taxes. The discount is calculated by applying the amount or per cent off to each item. For example, a 10% transaction discount applies 10% off of each item's price.
Buy One, Get One (BOGO) – A complex discount, where a customer buys a specific quantity of an item to receive another of that item or a different item – either free or at a reduced price.
Mix and Match – A complex discount where you specify how many units from a set of items the customer must purchase to activate the promotion. The customer can choose exactly which of the specified items and in what proportions they will buy. For example, if you specify that 5 units from a set of items A, B and C must be purchased, then the customer can purchase 5 of item A, or 3 from item A and 2 from item B, and so on.
Download your complimentary NetSuite ERP Buyers Guide
Item Promotion using SuitePromotions
We can run Item Promotions in NetSuite by selecting the item and the promotion. The promotion will be triggered when item is selected on the Order. For e.g Buy one get one free promotion (BOGO).
Order Promotion using SuitePromotions
We can run Order Promotions in NetSuite by giving Flat Discount on Orders or % discount on Order value.
Shipping Promotions using SuitePromotions
We can run Shipping Promotions in NetSuite, to give free shipping above a certain Order Value or Free shipping linked to specific items.
Limitations of SuitePromotions 
Please note that SuitePromotions bundle only run within NetSuite on the Order/Invoice and is currently not available on SiteBuilder. You can run simple promo code on the sites as a complementary offering.
What is are the "Standard" and "Advance Promotions" modules in NetSuite?
Standard Promotions is a promo code based module available from NetSuite. Using a "promocode" we are able to apply a promotion to the Sales Order in NetSuite or on the WebStore checkout.
When setting up the promotion we can set up the following fields in Netsuite:
Name – Enter name/code for your promotion
Start date – This will be the start date of the promotion 
End date – This will be the end date of the promotion
The discount item for accounting – This item will be applied to the transaction and will be used for accounting and reporting 
Discount rate – percentage or fixed amount for discount

% or Flat – 

Each customer can use the promotion

Free shipping method

Description

Location

Available to all customers

Display line discounts

Link items where promo code is applied to
Link partners who can use the promo code
Setting up Coupon code
Coupon code type/ Coupon code
Setting up a minimum order amount
A Comparison Summary of the Promotions Module in Netsuite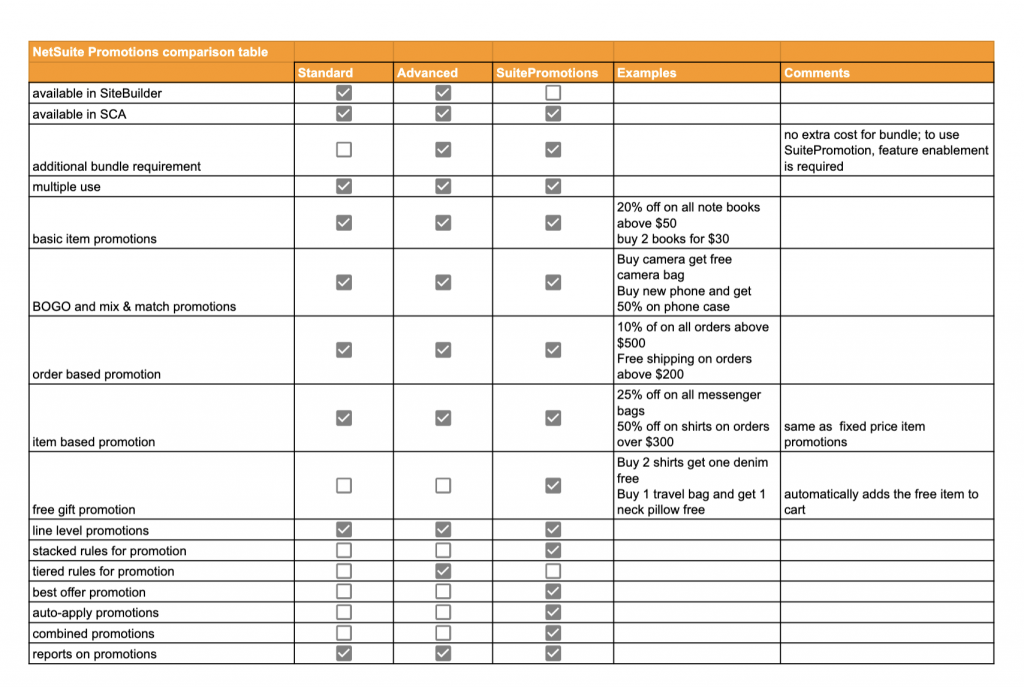 For more information on NetSuite Promotions and Campaigns, or for a Business ERP Consultation, contact AVT today!
If you have any questions about the upcoming New Release or would like help preparing your organisation for the transition, please contact us at support@abvt.com.au.
Please also consider book-marking the AVT Support Services – your go-to resource to submit support tickets and access knowledge base articles. The AVT Support Services also contains a direct link to NetSuite's system status page.
Kind regards,
AVT Business Solutions